Door locks are very important for complete safety. Commercial grade cylinder locks are available in many different brands. The locking system is highly durable. In general, these are available as half, single and double-cylinder locking system types. Based on your needs and security, you may have to select the right grade cylinder locking system.
Lock mechanism used
Any type of cylinder locking system will use a very similar locking mechanism. You can check with the Euro profile cylinder lock for the right type of locking system you need at your place. This is one of the factors that may depend on the level of security you need at your place.
The selection of locking mechanism may also depend on the type of door on which the high-security cylinder lock will be installed. You can install these Euro high-security locks on all types of doors. The locking mechanism for all types is a quality grade pin tumbler.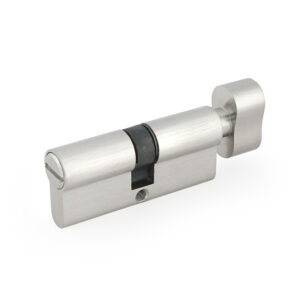 Door types where you can install cylinder locks
Within your residential and commercial place, you may have different types of doors. Wooden doors are more common, but you also have doors made up of PVC and glass material. For each type of door, you may have to select a cylinder door locking system based on the thickness.
You also have to focus on the security level you expect. Based on these two factors you will be selecting quality high-security Euro cylinder locks.
Glass doors
Many places have glass doors installed. They can be as secure as you want them to be. You have to select the best quality glass door that is shatterproof. People often install glass doors because they look elegant.
You can use thick glass material for security reasons as well. They offer some level of visibility. But what about security? Glass doors may need high-level security. The doors can be installed at the main entrance, in a commercial and residential place.
You can select a half cylinder lock system. These types are easy to install in glass doors that have less thickness. You can also install euro profile door handles as well on glass doors.
PVC doors
At present time PVC doors are also common. They are weatherproof and durable. The best thing about PVC doors is that they do not erode with time. The door may not undergo weathering even if the climate conditions are harsh.
PVC doors are ideal to be installed outdoors. To make the doors safer you can install a single- or double-cylinder lock system. The locking system can easily be installed on the door. You can also use the doorknob along with the locking system. This makes the door more secure and easy to operate.
Wooden doors
Wooden doors are highly durable. A quality grade cylinder locking system will make the doors more secure. You can search for the best euro profile cylinder smart lock system to install on the door. The locking system is highly secure and will not be easy to break.
The locking system is ideal for use in commercial and residential premises. The door locking system will only be accessed with the right set of keys. The locking system can also be automated if you have installed a smart lock system.
No matter what type of door you have, all types of cylinder locking systems are easy to install. The best advantage of the cylinder locking system is that you can install it in minimal space. It can also be installed right under the doorknob.