If you are renovating your house or moving to a new one, there are so many decisions you have to make. We often leave accessories like doorknobs unnoticed. However, architectural hardware products play a vital role in keeping you safe and also in enhancing the interior of your house.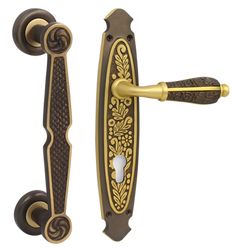 Why Architectural Hardware Products? 
Architectural hardware solutions are the crucial aspect people always think about when it comes to doors. These pieces are available in various decorative styles, patterns, and colors. 
Adding architectural door hardware products is the best way of embedding another element in the door having no sacrificial functions.
Doors are primary security in any space, and it is essential to treat them like any furniture. The architectural hardware products for your door add modern or classy features to a standard piece of furniture in your home or office.
Therefore, by replacing your standard door with the right architectural hardware solution, you are giving your space the best makeover without spending a huge amount of money on renovations. You can even do the installation process as a do-it-yourself project.
However, there are some prime factors you have to consider while selecting architectural hardware products. Let's discuss some of the most considerable architectural hardware solutions below, which should not be ignored if you want the perfect doorknob for your home or office.
Style, Shape, Colour, And Finish: 
Before going through any of the factors when purchasing an architectural hardware product first, you need to decide what type of doorknob you want. Architectural hardware products can offer you a massive collection of styles and shapes, hence you need to select one that looks modern but is also easy to handle.
After selecting a style, you need to decide what colour blends with the interior or in contrast with your door and other furniture.
And lastly, you must look for the finish of the hardware. There are vast options for you to browse, from matt finish to antique finish. Do your research on what is best for your space and decide accordingly.
Safety And Security: 
One of the significant architectural hardware solutions is safety and security. Ensure that the third-party organization tests the doorknobs and their lock. Whether you're purchasing the doorknobs for your front door, children's room, study room, or any other room in your home, make sure that they are secure to use.
Easy To Use: 
Often, while looking out for classy and modern architectural hardware products, we tend to select the ones that are complicated to handle. You need to pick an architectural hardware solution that everyone can easily manage. Especially if you have children at home, you need to be very careful while selecting the doorknobs that do not create trouble for anyone.
Budget: 
Another architectural hardware solution you must keep in mind is your budget. Do not get carried away and expand the budget more than you should. While making sure the list of things under consideration becomes available, ensure that you do not spend double of what you have planned.
Whether you are doing a whole home renovation or a small project, it is wise to think of doors as decorative architectural hardware solutions that act as an excellent accent in your space.