Euro cylinder locks are common lock profiles with various styles to suit interior and exterior applications. One of the key reasons for their widespread use is their ability to be replaced without removing other fittings and their simplicity and ease of installation. As a result, high-security euro cylinder locks may be found in almost every home and business.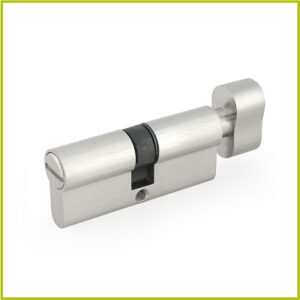 Buying a lock might be a little perplexing. This buyer's guide will assist you in quickly and properly selecting the best euro profile cylinder lock for the task.
How Do Euro Cylinder Locks Work?
To prevent the lock from being opened without the right key, keyed euro cylinder locks utilize a system of pins of varying lengths. Only the right key will fit into the cylinder correctly. A larger number of pins is thought to provide more security.
Thumb-turn cylinder locks do not need pins to operate. To unlock the door, the user twists the thumb-turn.
Types of Euro Cylinder Locks –
Full or Double Euro Cylinder
A key cylinder is located on both sides of the door in a double cylinder lock. This implies that a key may be used on either side of the door to lock and open it. This kind of lock is often used on doors that need a greater level of protection, such as front or rear doors. Even if a thief shattered the glass in your door, they would still need a key to open it.
Full Thumb-Turn Euro Cylinder
Full thumb turn locks are a hybrid option, with one cylinder having a thumb-turn lock and the other having a keyed lock. These locks are simple to use; the thumb-turn lock allows you to lock your door from the inside without using a key. You may want to use them on doors that need protection from the outside and provide a method of emergency escape from the inside.
Half of Single Euro Cylinder
Half euro cylinder locks are ideal for doors that only need keyed access on one side. These locks are often used for keyed outside access, such as garage doors.
Half Thumb-Turn Euro Cylinder
Half-thumb-turn euro cylinder locks allow for a rapid, keyless exit while locking from one side. These locks are helpful in situations when having a key is inconvenient. They may also be used to provide seclusion, such as in toilets.
Euro Cylinder Lock Setups
Euro cylinder locks' adaptability is one of the main reasons for its widespread use. Euro profile cylinder manufacturers may combine the various locks listed above across the same property to create sophisticated lock settings controlled by the same key. A keyed alike system is what this is called. Euro locks may also be used with other lock types, such as a deadlock or a deadbolt, to strengthen the security of a door.
How to Measure Euro Cylinders?
It is simple to measure your current high-security euro cylinder locks to replace them or get a new door measurement. To make the door secure, you will need to pay close attention to the length of the cylinder you will need. Because it is easier to hold and snap the door if too much of the cylinder protrudes from the handle, it is vulnerable to break-ins. The cylinder may be depressed inside the handles if it is excessively short. Moisture and filth might build up within the door due to this.