Door handles are something we have not given much importance to. Whether it is building a new house or doing a renovation of an existing one, a door handle is also an object of great importance. This is due to many reasons.
A door handle, as architectural hardware products, giving a good grasp will be always comfortable for its users. The handles are, of course, necessary for good looks of the house, and they also carry aesthetic importance. Choosing the right door handles can be a great accomplishment while building a home. When you have quality handles, they last longer without rusting and do not require replacement.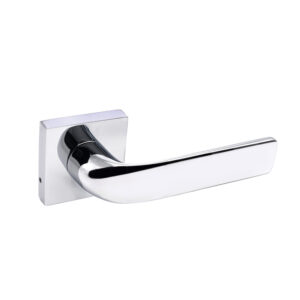 Tips to choose door handles/knobs
These days, there is a variety in architectural door accessories available in the market and Online.
Here are a few tips that will help you to choose the right product.
Door handles or doorknobs: Firstly, you need to decide whether you wish to purchase door handles or door knobs for the place. That will also depend upon the purpose of the door. It can be a passage door or a private room's door. It can, otherwise, be some dummy door or one that requires a keyed entry.
Practicality and functionality: Other factors to consider will be the users of the handles/knobs. It can be children or some aged people. The latter ones will need simple functionality in handles without much technicalities in them. Hard knobs and those needing a twisting motion may not be suitable for them.
Classic or contemporary: Next, we come to your choice between classy and traditional looks in handles for doors of your house. You can choose the ones giving a minimalistic look or for a simplistic appearance. There are several options in the materials of the product, such as satin nickel, pewter, chrome and stainless steel.
A good fit for your furniture style: You will next need to select handles that go well with the home's furniture. There has to be a match between the overall things inside the house with the handles. The colour can also be chosen on a similar basis. 
Your decision will also depend upon the security factors: You will need to make decisions also on the basis of security reasons when deciding upon a particular door handle.
Due to all the above factors, it also seems important to get good architectural hardware solutions. That will help you make better choices/decisions.
Door handles/knobs as significant accessories
Apart from all this, there is a trend of the use of warm metallics in architectural pull handles. Such choices are good when you wish to accent both light and dark colour within a room. Architectural pull handles easily go well with both traditional and modern décor ideas. All this will give you a luxurious experience, if not for other reasons.
Furthermore, if you are about to choose one for external door hardware, then you may consider the outer environment and the surroundings. In case it is a coastal region, one may go with matte black or satin chrome.
Conclusion
We have seen now, how important door handles can be if given a thought. They can bring a transformation to your house and make it as beautiful as ever. The architectural hardware products will be an attraction for the visitors when they see them for the first time.